Saint Felix School
An Education By The Sea – Broaden Your Horizon
Saint Felix School in an independent co-educational day and boarding school for children aged from 2 – 18, located close to the glorious seaside town of Southwold on the Suffolk coast.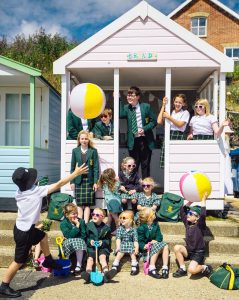 With over 300 pupils on its roll, Saint Felix is enjoying its best reputation for decades for the quality of its academic teaching and learning.  We have recently featured in both the Times and Telegraph's top independent schools for A Level and GCSE results and our progress score at Key Stage 5 ranks within the top 5% of all schools in the UK.
We promote inspirational teaching to small class sizes with an emphasis on achieving academic excellence through developing the individual as a whole. The community spirit is strong, instilling school values at the expense of nothing else. Our broad curriculum of 25 subjects and extensive offer of more than 40 sporting and enrichment activities enables us to provide opportunities for all children to develop their own particular talents, wherever they may lie.  The school enjoys a large open site in 70 acres of outstanding natural beauty and our facilities include a sports hall, dance studio, 25 metre swimming pool, fitness centre and theatre along with a textiles and art studio, and Sixth Form Study Centre and Refectory Café.  It is a great place to learn, work, grow and live.
With three boarding houses, Saint Felix School has, for a long time, enjoyed a boarding community that is rich in its diversity of cultural and ethnic backgrounds.
Mr Matt Oakman, Headmaster
Mr Matt Oakman, Headmaster at Saint Felix School, joined Saint Felix in September 2023. Having spent twenty years at Wellington College taking on a wide array of roles; Head of Oxbridge, Head of Tutoring, Director of Sport, President of Common Room, Deputy Head Academic and most recently as Senior Master, with this extensive background in education and strong enthusiasm for his role we are extremely confident he will contribute greatly to the development of Saint Felix.
School Details
Day and Boarding School, co-educational
Ages 2-18
Halesworth Road, Reydon, Southwold IP18 6SD
schooladmin@stfelix.co.uk